Candidate Bulletin & Information
Be sure to read the NCLEX Candidate Bulletin below before registering to take the NCLEX.
Important Notice: Due to the COVID-19 pandemic and measures imposed by the federal, state and local governments, candidate testing has been interrupted. NCSBN has worked with Pearson VUE to reopen some test centers and allow for testing in critical healthcare fields to continue to support the high demand due to COVID-19. Some changes will be made to our testing program to enable testing to resume. Key changes are addressed in the FAQs. To the extent that information elsewhere on the NCSBN website may differ or be in conflict with the FAQs, the COVID-19 Impact to NCLEX Candidates FAQs shall control. We are working as quickly as possible to update the NCSBN website and other materials. In the meantime, any questions may be directed to nclexinfo@ncsbn.org.
2020 NCLEX Candidate Bulletin
This resource serves as your guide from before to after the NCLEX, including important contact information, details on how to register, the NCLEX Candidate Rules and results processing.
2020 NCLEX Information Flyer
Highlights for before, during and after the NCLEX. Includes information on The Eight Steps of the NCLEX, acceptable identification and rules for scheduling/rescheduling your appointment.
Program Codes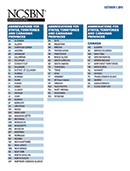 Candidates can use this document to find their program code when registering for the exam.
NCLEX Tutorials