Feature
An Interview with Eileen Fry-Bowers, Scholar in Residence Participant in NCSBN's Regulatory Scholars Program
Posted 11/13/2018
Eileen Fry-Bowers, PhD, JD, RN, CPNP-PC, is an associate professor at the University of San Diego who teaches graduate health policy and research methods courses. Dr. Fry-Bowers took the Scholar in Residence position because she was interested in integrating nursing regulation and related policy issues into her teaching.
In the spring of 2017, NCSBN began an exciting new initiative, the Regulatory Scholars Program. Its purpose is to develop the field of nursing regulation by building regulatory experts and researchers, providing high-level evidence for nursing regulatory and policy decision making, and encouraging scholarly dialogue and publications.
The program consists of three positions: a Scholar in Residence, a CRE Grant Program for Doctoral Students and an unpaid Graduate Internship. Leader to Leader spoke with Eileen Fry-Bowers about her time spent this summer in the Scholar in Residence position.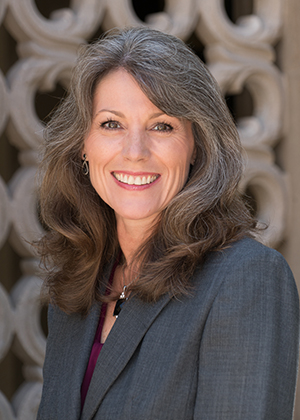 Eileen Fry-Bowers, PhD, JD, RN, CPNP-PC, is an associate professor at the University of San Diego who teaches graduate health policy and research methods courses. Building on her knowledge base of policy and legal issues, Dr. Fry-Bowers took the Scholar in Residence position because she was interested in integrating nursing regulation and related policy issues into her teaching.
Describe your position as associate professor at the University of San Diego.
I teach a course in research methods to doctoral students and I teach two health policy courses, one for master's students and a health policy research seminar for PhD students. My teaching focus is in both research and health policy. I have six or seven courses in my portfolio, but in any year, I teach about four different courses.
Additionally, I have a mentorship role for PhD students, and I serve as their chairperson for their dissertations. I mentor doctor of nursing practice (DNP) students and serve as their chair for their final projects, and I work with master's prepared students who want to take on extra projects. I also have university responsibilities; I was just placed on the university senate to represent the school of nursing.
What prompted you to apply for the Regulatory Scholars Program?
I have an extensive background in health policy and my clinical specialty is pediatrics. My scholarship and clinical work has always been focused on the care of children, and not so much on the laws that affect nursing practice. But I realized I had a gap in knowledge with regard to regulation of the nursing workforce. And with some of the other duties I have, such as sitting on committees for various national nursing organizations, I realized I needed a better sense of how the various boards of nursing work and what they do. I thought the opportunity to come to NCSBN would give me a great occasion to have a national perspective on what is currently happening with nursing licensure, regulation, discipline and other topics I hadn't had the chance to explore previously.
Tell us about your activities at NCSBN while you were in the Regulatory Scholars Program. How was your experience overall?
I had the chance to work on specific projects that were all very great learning experiences, including:
Developing a proposal for a DNP program in nursing regulation;
Designing in-depth outlines for courses in health policy and law in regulation that may be used in NCSBN's new Global Academy;
Researching and writing a literature review related to substance use preventative programs;
Collaborating with staff on the Delphi study for the Nursing Education Outcomes and Metrics Committee; and
Researching the ethical and regulatory challenges associated with conscience protections for health care providers, including nurses.
However, I think one of the most valuable aspects of the position was to sit and participate in a number of meetings and just hear the conversations occurring about salient issues. For example, sitting in on meetings about the Nurse Licensure Compact (NLC), and hearing about the processes and challenges involved in that, was very interesting. Being that California is not currently a compact state, I did not previously have much of an understanding of how it works, both on paper and practically. It is important for all educators to understand it because we have students who are going on to work in compact states.
I had the opportunity to sit in and participate on some of the government affairs and policy conference calls, learning about what was happening from a larger policy and regulatory perspective, at both the state level and federal level. Additionally, I spoke individually with each of the attorneys at NCSBN. Those one-on-one conversations about how things work are the kinds of experiences that you're not going to learn from just reading an article. The experiential learning that just happens with the day-to-day activities of an organization, for me, was profoundly valuable.
What was your favorite part of the Regulatory Scholars Program? What was the biggest challenge?
Working on my projects was very informative and I learned a lot from those, but my favorite part was the actual day-to-day conversations with people, being face-to-face on important issues. I think that is the real value with these kinds of experiences — you get to live and breathe the organization. That's where the unique aspect of the learning occurs.
The biggest challenge was probably coming into a new organization from a background of academia. It is a different structure. Having a sense of comfort and being able to step in and work in a new environment can be challenging, but really, I was able to slide right into the role because NCSBN was so welcoming.
What surprised you about the work of NCSBN?
Before the Regulatory Scholars Program experience, my knowledge of NCSBN was limited to its website. I had really no understanding of the depth of NCSBN's activities, how much NCSBN is involved in and the amount of work the organization does. If you were to ask a lot of faculty about NCSBN, they might say "they do the NCLEX." For me, as I don't teach undergraduate students, my frame of reference was more around the work that's been done with the APRNs and the scope of practice work because that's what I myself have been using NCSBN's resources for. But there is so much more than that, including system planning, concerns about substance use among nurses, and the Marijuana Guidelines for nurses to utilize for care of our patient populations. In fact, I've shared the Marijuana Guidelines with some of my colleagues in California because we are a medical and recreational marijuana state. I think just the sheer breadth of work that NCSBN does was eye-opening.
Is there any aspect of the program that you would change to be more applicable to your line of work?
No, I think the value in the Regulatory Scholars Program is the flexibility. It allows people to take advantage of their backgrounds and their knowledge. Working on both the DNP proposal and the detailed course outlines for the Global Academy gave me a chance to capitalize on both my academic experience and my legal background. I was able to inject into the proposed DNP program areas that I knew were needed to beef up in academia — coursework in policy, regulation and law — that I knew nurses weren't getting and could benefit from.
I think when somebody comes to the Regulatory Scholars Program, being able to work on a project of their interest that utilizes their existing expertise is a win-win, for the scholar and for NCSBN, because you're tapping into that person's specific expertise.
What advice might you give others who apply for the scholars program?
Don't be put off by thinking you can't make it work. The value of the opportunity is well worth any effort, and there are ways to make it work. I came from California and lived in Chicago for eight weeks. Don't be afraid to try something new and step out of your comfort zone. I definitely got a return on my investment. Being able to live in a big city and take advantage of a different lifestyle was valuable as well. I live in southern California, the land of freeways, so being able to walk to and from work in 20 minutes was an enormous surprise to me. From a personal standpoint it was an enjoyable experience, to have an opportunity to live a little differently, and I don't think that can be discounted. It's important to stretch yourself and experience new things in life, at any age and any stage of your career.
Please visit the Regulatory Scholars Program webpage for further information, including position descriptions, applications, and due dates. For any comments or questions, contact regulatoryscholars@ncsbn.org.