Occupational Licensing Reform Resources
Research
NCSBN recognizes the need for continual research on scope of practice, and license portability to produce evidence-based regulations. The Journal of Nursing Regulation frequently publishes articles on these topics to inform the overall conversation and educate members.
Education
NCSBN believes it is important for members to be fully educated on the issues related to occupational licensing and takes steps to provide resources and opportunities to learn more about the issue. NCSBN created a large database of studies, articles and opinion pieces regarding occupational licenses and portability. At NCSBN Annual Meeting in 2019, members were able to hear from two leading researchers regarding licensing and the role of states in the conversation.
NRBs have been under scrutiny following the North Carolina State Board of Dental Examiner case. NCSBN created a toolkit to ensure that NRBs have resources and information to prevent anticompetitive behavior in line with the decision from the Supreme Court.
Policy
Nurse Licensure Compact

For years, NCSBN has strived to offer nurses the opportunity to practice safely and competently across state lines without undue licensing burdens. One way that we have worked to facilitate interstate mobility of nurses is through the Nurse Licensure Compact (NLC), an interstate compact that allows a nurse to have one multistate license, in his or her primary state of residency that grants the privilege to practice in other NLC participating states both physically and electronically.
APRN Consensus Model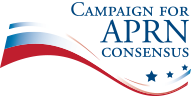 NCSBN, along with numerous other nursing organizations, created the APRN Consensus Model to achieve the goal of standardizing advanced practice nursing and implementing best available evidence to secure quality service provision.
The major elements of the Consensus Model for APRN Regulation are:
State recognition of each of the four described roles, including certified nurse practitioner (CNP), certified registered nurse anesthetist (CRNA), clinical nurse specialist (CNS), and certified nurse-midwife (CNM).
Licensing as an RN and as an APRN in one of the four described roles
Graduate or post graduate education from an accredited program
Certification at advanced level from an accredited program that is maintained
Independent practice
Independent prescribing
In addition to governing licensing, accreditation, certification and education, the APRN Consensus Model promotes APRN practice to the full extent of the practitioner's education and training. NCSBN through the Nursing America campaign works with states to advocate for removal of restrictive state statutes that tether an APRN's ability to practice their profession to a physician.
APRN Compact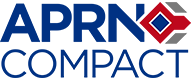 In addition to the NLC, NCSBN is developing an interstate compact that would facilitate license portability for APRNs, who are increasingly delivering care across state lines via telehealth. The APRN Compact maintains the same principles as the NLC, including a mutual recognition-licensing model that would allow an APRN to practice in any participating state with just one license.
The APRN Compact falls in line with the standards of the APRN Consensus Model, including the removing the need for a supervisory relationship with a physician. In certain states, APRNs are required to have a physician in a collaborative agreement which limits their ability to practice independently. There is variation among states regarding levels of independence, reducing the ability for APRNs to move across state lines or practice remotely. The compact standardizes independence and allows APRNs to practice to the full extent of their training and education.