COVID-19 Resources
Disclaimer: This information has been gathered from a variety of sources. Although NCSBN has made every effort to provide complete, accurate and up-to-date information, NCSBN makes no warranties, express or implied, or representations as to the accuracy or reliability of this information. The information is fluid and evolving. NCSBN assumes no liability or responsibility for any errors or omissions in the information contained in this resource.
COVID-19 Videos
These videos provide important updates related to COVID-19
Free COVID-19 Courses Through ICRS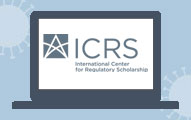 The International Center for Regulatory Scholarship (ICRS) COVID-19 series offers short online courses for nurses and nursing students looking for nursing-specific information about the coronavirus pandemic.
Letters of Support
COVID-19 Members Only Resources