Legislative Initiatives & Resources
Initiatives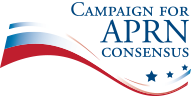 The Campaign for Consensus is the NCSBN initiative to assist states in aligning their APRN regulation with the major elements of The Consensus Model for APRN Regulation. Learn how the Consensus Model for APRN Regulation can be adopted in your state.
Resources
Military Analysis
A Comparison of Selected Military Health Care Occupation Curricula with a Standard Licensed Practical/Vocational Curriculum.
NCSBN Model Act
The NCSBN Model Act and Rules are exemplary legislation that can be adopted by a BON. The current Model Act & Rules were developed by a NCSBN committee, approved by the Delegate Assembly in 2012 and updated in 2014.
NCSBN Model Rules
The NCSBN Model Act and Rules:
Promote a common understanding of what constitutes the practice of nursing
Provide a comprehensive framework for boards of nursing to view regulatory issues and needs
Identify essential components of legislation
Inspire new ideas, new approaches and suggestions for future regulatory goals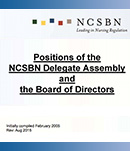 Policy Compendium
Positions of the NCSBN Delegate Assembly and Board of Directors.
Contact Us
Contact us with any comments or questions concerning Policy and Government Relations.
Email