Policy Environment & Legislative Updates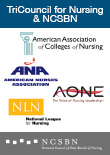 Interstate Practice, Education, and Licensure Changing Practice, Evolving Regulation
NCSBN and the TriCouncil for Nursing are working to address the impact of telehealth on nursing practice, education, regulation and licensure. The goal of this collaboration is to ensure patient safety, facilitate mobility and foster the evolution of nursing practice.
2017 Environmental Scan
The 2017 NCSBN Environmental Scan represents a systematic and continuous effort to search for information about how nursing is evolving, and what that means for the future of nursing regulation. A variety of sources have been used to compile this document. Of course, this publication represents a mere snapshot in time of the world around us - both inside and outside of nursing regulation. It was distributed as a supplement to the Journal of Nursing Regulation in January 2017.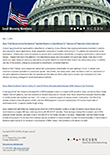 Good Morning Members
Good Morning Members is a semi-weekly policy briefing containing important news and information in a shortened format designed to keep members current.
Past Editions
Contact Us
Contact us with any comments or questions concerning Policy and Government Relations.
Email