Policy Updates and News
2021 Environmental Scan
The 2021 NCSBN Environmental Scan represents a systematic and continuous effort to search for information about how nursing is evolving, and what that means for the future of nursing regulation. A variety of sources have been used to compile this document. Of course, this publication represents a mere snapshot in time of the world around us - both inside and outside of nursing regulation. It was distributed as a supplement to the Journal of Nursing Regulation in January 2021.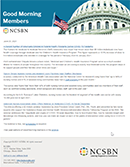 Good Morning Members
Good Morning Members is a twice-weekly email newsletter that focuses on general information, updates, research and COVID-19 issues of interest to the nursing regulatory community.
Past Editions