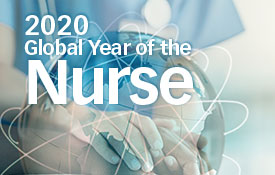 Honoring the 200th anniversary of the birth of Florence Nightingale, 2020 is designated by the World Health Organization (WHO) as the International Year of the Nurse and Midwife. This year will be dedicated to highlighting the enormous sacrifices and contributions of nurses and midwives, and to ensuring that the shortage of these vital professions across the globe be addressed.
Articles of Interest
Tri-Council Articles
Resources
Key Events
Nursing Times has compiled a list of events taking place around the globe to mark the Year of the Nurse and the Midwife.
Date
Event

Date

April 7

Event

World Health Day including launch of the WHO's State of the World's Nursing report

Date

May 12

Event

International Nurses Day including a celebration marking the birthday of Florence Nightingale

Date

May 13-15

Event

WHO Global Forum of Government Chief Nursing Officers

Date

May 18-23

Event

73rd World Health Assembly including addresses by nursing champions in celebration of the International Year of the Nurse and Midwife

Date

September - October 2020

Event

WHO regional committees, which includes potential regional commitments to be made on the health workforce based on the WHO's State of the World's Nursing report

Date

Oct. 27-28

Event

Nightingale 2020 Conference