NLC Story
Critical Care Nurse Becomes a Strong Advocate of the NLC
Posted 05/08/2020
In the last year, the Nurse Licensure Compact (NLC) has experienced extraordinary growth and change. The current status of the compact can be viewed via this interactive map. With the NLC's current state of evolution, the compact is becoming ever more vital to nurses and those who employ them. NCSBN is sharing compelling NLC success stories to show how the compact positively impacts nurses and patients.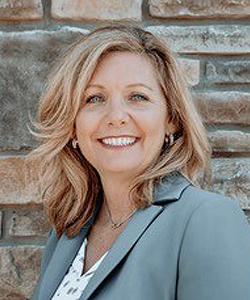 Shellie Neuman, RN, recalls the first time she needed to get a nursing license in a state that wasn't part of the Nurse Licensure Compact (NLC). The process took more than six months.
"I found out we were moving to Louisiana in the spring of 2016," explains Neuman. "I started doing the research, and I said, shoot, they're not part of the compact, what do I need to do to get a license down there? From then until December, when I actually got my license, was well over six months."
Neuman is a research nurse coordinator at the University of Nebraska Medical Center in Omaha. Her husband is a brigadier general in the U.S. Air Force. Her experience waiting for a license is a familiar one to military spouses who move frequently. She has practiced nursing in Louisiana, Nebraska, South Dakota, Texas and Virginia.
Neuman is more fortunate than some military spouses whose careers can suffer numerous disruptions when they move. Neuman only experienced one such disruption, but that's because every other state in which she has practiced nursing was part of the NLC (Louisiana joined the NLC in 2018). Moving and finding a new job is hard enough for anyone, but adding in a long wait for a license is costly and can put a strain on families. Neuman's experience in trying to obtain a license in Louisiana prior to state's entry into the NLC prompted her to take action.
Neuman and her husband moved to Louisiana because he was stationed as a wing commander to Barksdale Air Force base. They had dinner one night at a superior's house and some of their fellow dinner guests happened to be on the Louisiana state legislature. Her ordeal came up in the course of casual conversation. Neuman describes one of the state representatives as being "horrified when I told her what issues I was having trying to just get license."
That representative told a state senator and before she knew it, Neuman found herself advocating for the NLC. "I ended up testifying in the Louisiana House and Senate, and it turned out to hit a chord with quite few people. I really just fell into it, and I was fortunate to have a little bit of a platform, some important people who had a little bit of pull. And then they ran with it. That's how it happened."
Barksdale Air Force Base is located just outside Shreveport, La., which is very close to Texas, but also not far from the Arkansas and Oklahoma borders. The area has a large military community, but Neuman recalls that many nonmilitary nurses she met also supported the compact. "It's a border state," she says. "Nurses who weren't affiliated with the military were very supportive and it grew from there."
A critical care nurse by trade, Neuman started in the ICU and has worked in day surgery, inpatient/outpatient surgical services and in post-anesthesia care unit (PACU). Currently, in addition to occasional cardiac cath lab work at Children's Hospital & Medical Center, she is a full-time research nurse coordinator at the University of Nebraska Medical Center (UNMC) in Omaha.
"Physician investigators from the university who are conducting a research trial go through us," she explains. "We screen patients, look at eligibility, involve the key players and follow protocol to run a trial safely and effectively. We enroll patients and monitor them when we administer the drugs. Are they having any adverse effects? What does it look like? We ensure we are following the protocol completely and then provide any follow up that the trial's sponsors might require. We follow the patient from start to finish."
Asked how things might have turned out if the NLC didn't exist, Neuman is unhesitant in explaining that it would have adversely impacted her career. "I had a Nebraska license when I first started my career, then we moved to Texas, which was part of the compact," she says. "I was able to work in six states with a Texas multistate license, until I got to Louisiana. Without the NLC, I would have had to apply and pay for every new license, plus the fingerprinting, plus the time out of work. We've only been in each state a couple years at a time. Let's say it took six months every time. By the time I would have gotten my license, I would have only worked for 18 months before moving again. There's a good chance I would've left nursing completely."