Regulatory Scholars Program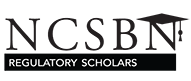 NCSBN is thrilled to announce an exciting new initiative, the Regulatory Scholars Program. The purpose of this program is to develop the field of nursing regulation by building regulatory experts and researchers, providing high-level evidence for nursing regulatory and policy decision-making, and encouraging scholarly dialogue and publications. This new program began in the spring of 2017.
Available Positions
Paid Graduate Internship
The graduate internship will consist of one eight-week, full-time, paid internship that will provide the intern with valuable nursing regulatory experience related to education, practice, licensure, policy and/or discipline depending on both the intern's primary area of interest and NCSBN's organizational objectives.
A $6,000 stipend, as well as reimbursement for travel expenses, will be provided to the intern. The intern will be expected to work under close guidance of the Director of Regulatory Innovations and will be assigned to specific staff based on the area of interest. The internship timeline will be adjusted based on the intern's academic schedule.
Interested graduate students or faculty will submit application materials to NCSBN for consideration. The position will begin in June 2018 (with flexibility based on the candidate).
Application Deadline: Extended through February 16, 2018
CRE Grant Program for Doctoral Students
The CRE Grant Program for Doctoral Students provides funding for scientific research projects related to nursing regulation and policy. It will be funded by NCSBN's Center for Regulatory Excellence (CRE) Grant Program and will award up to $30,000 grants to candidates – one grant per each funding cycle.
Interested candidates will submit an application that reflects the short/long-term research objectives of NCSBN. The call for proposals will be sent out biannually in April and October; the first call will be sent for the April 2017 funding cycle. Those receiving the regulatory scholars grant program will have two years to complete the study. It is expected that all study results will be published and presented to national and international audiences.
Interested nursing or nursing-related doctoral students (DNP or PhD) will submit application materials to NCSBN for consideration.
Be sure to read the CRE Grant Proposal Guidelines for more information.
Graduate Experience
Unpaid practical experience in nursing regulation or policy will be offered to a limited number of nursing graduate students who would like to gain nursing regulatory/policy experience to satisfy the clinical experience component of their graduate nursing program. Generally, this experience is available to students located in or around the Chicagoland area. The timeframe will be negotiated with the Director of Regulatory Innovations, though it generally will be no longer than three months.
The student will have experience in a variety of NCSBN departments and may choose to work intensely in one area. The student will contribute to the work of NCSBN while obtaining practical experience in nursing regulation.
Interested students in Masters or DNP programs will submit application materials to NCSBN for consideration.
Applications can be submitted at anytime.
Contact Us
Contact us with any comments or questions concerning Regulatory Scholars Program.
Email