Approval of Nursing Education Programs
Program approval is an essential part of licensure. It is defined as the official recognition of nursing education programs in the U.S. which meet standards of approval established by the nursing regulatory body. Over the years, NCSBN has studied the approval process in U.S. nursing regulatory bodies.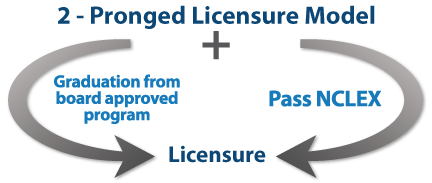 Why do U.S. nursing regulatory bodies approve nursing programs?
Licensure in nursing is a two-pronged system. In order for nursing graduates to be eligible to take the NCLEX, the U.S. nursing regulatory model dictates that the new nurse must show evidence of graduating from a nursing regulatory body that is an approved nursing program. By making students eligible to take the NCLEX, nursing faculty verify that nursing students are clinically competent to safely practice nursing. Therefore, nurse educators have enormous power in the licensure model in the U.S. nursing regulatory bodies rely on each other to make sound program approval decisions so that mobility across jurisdictions can be as seamless as possible.
Future of Approval Toolkit

This toolkit contains valuable information about program approval and national nursing accreditation, such as:
2011 Education World Café Meeting

NCSBN began a dialogue about important matters in prelicensure nursing education, approval, and accreditation at a collaborative meeting in Chicago using the innovative World Café format. The conversation was very insightful, with thought leaders Christine Tanner, Joanne Disch, and Michael Bleich challenging the group to stretch their thinking. 
Meeting Resources 
Setting the Stage- Building your plan for Monday - Joanne Disch, PhD, RN, FAAN 
What Could Nursing Be? - Michael Bleich, PhD, RN, FAAN 
Toward a New Way of Thinking - Christine Tanner, PhD, RN, FAAN