Prelicensure Distance Education Requirements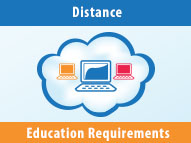 Sometimes prelicensure nursing programs offer courses outside the home state/jurisdiction (defined as where the program has its legal domicile). When that happens, the host state/jurisdiction (defined as that state/jurisdiction, outside the home state/jurisdiction, where students have clinical and/or didactic nursing education) might have its own rules or regulations, in addition to those from the home state/jurisdiction, which the nursing program must follow to be in compliance. 
For your convenience, here is a list of board of nursing (BON) host state/jurisdiction requirements for nursing programs.
Only BON requirements are listed and not other state/jurisdiction requirements such as those from the Boards of Higher Education. See the SHEEO website to learn about other state/jurisdiction requirements.
Disclaimer: The information has been provided by the U.S. boards of nursing. It will be updated periodically and is subject to change without notice. For the most up-to-date information consult the individual BON's website, which is included with each BON's list of requirements.