Distance Education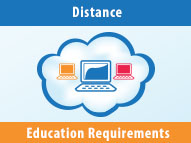 Increasingly, both prelicensure and Advanced Practice Registered Nurse (APRN) nursing programs offer distance education courses outside of the home state/territory or where the program has a physical presence. When that happens, the host state/territory (located outside the home state) might have its own rules or regulations, in addition to those from the home state/territory, which the nursing program must follow to be in compliance.
Additionally, if the home state is not part of the Nurse Licensure Compact (NLC), nurse faculty may need a license in all host states where students take either didactic or clinical courses. Likewise, even if faculty are located in a home state that is part of the NLC, they may need a license in all non-NLC host states where students are taking didactic or clinical courses.
For your convenience, NCSBN provides a list of U.S. Boards of Nursing (BON) host state/territory requirements for both prelicensure nursing programs and APRN nursing programs.
As a note, only BON requirements are listed and not other state/territory requirements, such as those from the Boards of Higher Education.