National Simulation Guidelines for Prelicensure Nursing Programs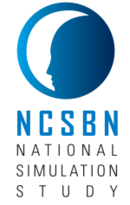 Scope and Purpose
Simulation Guidelines for Prelicensure Nursing Programs are meant to guide:
Nursing Regulatory Bodies in evaluating the readiness of prelicensure nursing programs in using simulation as a substitute for traditional clinical experience.
Nursing education programs in the establishment of evidence based simulation programs for the undergraduate nursing curriculum.
Coursework:
Prelicensure RN and LPN education programs
Guideline Development
An expert panel consisting of representatives from International Nursing Association for Clinical Simulation and Learning (INACSL), American Association for Colleges of Nursing (AACN), National League for Nursing (NLN), Society for Simulation in Healthcare (SSH), Boards of Nursing and NCSBN developed the guidelines based on data from the NCSBN National Simulation Study (Hayden, Smiley, Alexander, Kardong-Edgren, & Jeffries, 2014), studies in the literature, the INACSL "Standards of Best Practice: Simulation" and other pertinent resources.
An extensive literature review was conducted, which laid the basis for guideline development.
Definitions
Simulation: A technique, not a technology, to replace or amplify real experiences with guided experiences that evoke or replicate substantial aspects of the real world in a fully interactive manner (Gaba, 2004).
Traditional Clinical Experience: Practice in an inpatient, ambulatory care or community setting where the student provides care to patients under the guidance of an instructor or preceptor.
The Guidelines
Nursing education programs are advised to begin slowly and steadily increase the amount of simulation as they acquire expertise in this pedagogy.
Questions have arisen regarding the number of clinical hours a program should require in order to substitute clinical hours with simulation. All programs participating in the National Simulation Study (Hayden, Smiley, Alexander, Kardong-Edgren, & Jeffries, 2014) required at least 600 hours of clinical experience in the pre-licensure curriculum. No evidence is available regarding the outcomes of substituting traditional clinical experience with simulation when the program has less than 600 hours; however, experts agree that it is not the number of hours, but the quality of the experience. If students are going to be placed in clinical settings where there is inadequate opportunity for hands-on experience, employment of simulation by capable faculty with meaningful debriefing may offer a better alternative.
In addition to the simulation guidelines, Nursing Regulatory Bodies and nursing programs should consider the following criteria when determining the amount of simulation that can substitute for traditional clinical hours:
Overall number of clinical hours required by the program
Pass rates of students
Availability of clinical sites
Turnover of faculty/program director
Complaints from students
Retention rates
Guidelines
Evidence
Resources

Guidelines

There is commitment on the part of the school for the simulation program.

Evidence

Letter of support from administrators stating the program has their support and will be given the resources to sustain the program on a long-term basis.
Budgetary plan for sustainability and ongoing faculty training is in place.
Written short-term and long-term objectives for integrating simulation into the undergraduate curriculum and evaluating the simulation program.

Resources

Guidelines

Program has appropriate facilities for conducting simulation

Program has the educational and technological resources and equipment to meet the intended objectives

Evidence

A description describing the physical space for conducting simulations including the lab, storage/staging areas and a place for debriefing.
Program has a plan that describes the simulation resources and equipment that will be used to achieve the objectives

Resources

Scenario Resources:

Quality and Safety for Nurses (QSEN)

National League for Nursing (NLN)

Massachusetts Nursing Initiative

Guidelines

Lead faculty and sim lab personnel are qualified to conduct simulation

Evidence

Submission of CVs and evidence of qualifications such as: simulation conferences attended, coursework on simulation instruction, certification in simulation instruction, training by a consultant or targeted work with an experienced mentor

Resources

Guidelines

Faculty are prepared to lead simulations

Evidence

Resources

Guidelines

Program has an understanding of polices and processes that are a part of the simulation experience.

Evidence

Policies describing the following, include, but are not limited to: method of debriefing; plan for orienting faculty; qualifications of faculty and sim lab personnel; plan for training new faculty; evaluation methods.

Resources

Socratic Method of Debriefing
Simulation Checklists
Programs
This resource allows programs to ensure that they have put in place the various policies, resources, and infrastructure that contribute to a successful simulation program. It may also be used by nurse regulators during program approval to assist in evaluating a nursing program's simulation components.
Download the Simulation Program Checklist
Faculties
This resource allows programs to ensure that nursing faculty have been adequately prepared to deliver consistent and effective simulated clinical experiences. It may also be used by nurse regulators during program approval to assist in evaluating a nursing program's simulation components.