NLC Story
Reducing Barriers and Filling a Need: Nevada and the US as a Whole would Benefit from the NLC
Posted 04/01/2021
In the last year, the Nurse Licensure Compact (NLC) has experienced extraordinary growth and change. The current status of the compact can be viewed via this interactive map. With the NLC's current state of evolution, the compact is becoming ever more vital to nurses and those who employ them. NCSBN is sharing compelling NLC success stories to show how the compact positively impacts nurses and patients.
What would it look like if every U.S. state was a member of the Nurse Licensure Compact (NLC)? While advocates for the NLC have faced strong opposition in a number of states, we are also living in an unprecedented time. The COVID-19 pandemic has shown that during a crisis or disaster, nurses must be able to move quickly and fluidly to where they are needed most.
There are currently 34 states and one U.S. territory that have enacted the NLC, and legislation to enact the NLC is now pending in 12 states and one U.S. territory.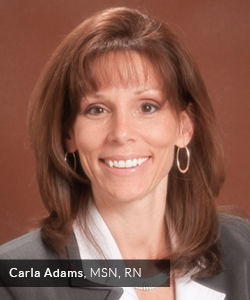 "If every state were an NLC state, it would open up avenues that are currently hard for us to imagine," says Carla Adams, MSN, RN, chief nursing officer, Northern Nevada Medical Center (NNMC). "The barriers would be reduced, and I think it would help our neighboring California hospitals. It could allow more nurses to practice physically in Nevada. But as we move more electronic, nurses from other states would also be able to help us locally via telehealth."
For now, Adams is focused on how Nevada and the entire U.S. would benefit from the NLC. "Between the growing nursing shortage and the baby boomer generation's retirement, the new needs are astronomical," she says. "From a recruitment standpoint, employers would win with faster hiring. Nurses would win because they wouldn't have to wait to start their employment, and application and license renewal costs would be reduced. Collaboration with the other compact states would make a statement about Nevada -- we would be seen as a more welcoming state to nurses. Travel nurses often bypass us because we're not in the compact. Being in the NLC would also reduce the onboarding process time of checking with each individual state."
A nurse with primary residency in an NLC state has the authority to practice in person or via telehealth in all compact states. In the event of a crisis, nurses from multiple states can quickly and easily respond. The compact can reduce complexity, decrease cost and provide an equal or even higher level of protection to the public. Licensure requirements are aligned in NLC states, and all nurses applying for a multistate license are required to meet the same standards, including submission to federal and state fingerprint-based criminal background checks.
Located in Reno in Northwest Nevada, Northern Nevada Medical Center is just 20 miles from the California border and just a two-hour drive from its capital in Sacramento. Adams's colleague Teresa Whitfield, MS, RN, is director of medical/telemetry at NNMC. Whitfield recently relocated from California, where she lived 40 miles from Paradise, a town destroyed by wildfires in 2018.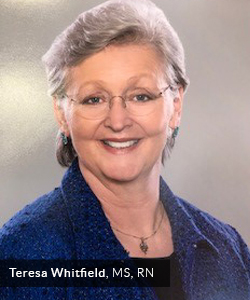 "The fires that came through Paradise took out their hospital and destroyed the homes of their hospital staff," says Whitfield. "If we all were compact states, nurses who work for the health system in Paradise – who knew their system -- could have come in to help. In that sense, I see a benefit in compact states allowing nurses within the same health system to cross borders to help their work colleagues, no matter what state they're in. If there are hurricanes for example, nurses in the same system could travel south to help. It would be more seamless, and you would have help faster in times of disaster."
The unprecedented number of patients affected by COVID-19 and the overwhelming effect it had on health care providers resulted in all states, territories and the District of Columbia issuing emergency declarations and lifting state licensure regulations in 2020. In some cases, emergency license waivers were issued to allow nurses licensed in other states to accelerate their ability to practice and assist with disaster relief.
I found that having that red tape removed was incredibly helpful," says Lisa Pistone, MBA, RN, CNML, director of the Medical Surgical unit at NMCC. "Our state board was good about moving forward with temporary licenses. But when you're looking for a nurse, whether for a posted position or a traveler, you're looking for a need now so that you're not putting strain on your team. That process can normally take a solid month. When the restrictions were lifted, that process sped up significantly. As soon as a traveler was ready, they were able to walk through the door."
If the NLC was expanded to all 50 states, all nurses would meet uniform licensure requirements, ensuring that agreed upon standards were met. Each state would have enforcement authority when a nurse from another NLC state practiced in its jurisdiction, and expiration of executive orders and nurses' authority to practice would be nonissues.
One argu
ment that groups opposed to the NLC often suggest is that the safety of patients could be compromised when an influx of nurses trained and educated in other states come to practice. Whitfield says this claim doesn't square with her experience. "The unit I direct brings in new graduates and new graduate-nurses," she explains. "No matter what state a new graduate-nurse has trained in, when they start it's their work ethic, personality and drive that determines patient safety. I can teach a new graduate anything they need to know if they have a willing, open attitude. There are nurses who practice the utmost of patient safety in their practice every day across the U.S., and there are some who do not. I don't think it's dependent on whether they are from a compact state or not."
Whitfield also thinks that removing barriers to interstate practice is appealing to young people starting their nursing careers. "They work to live," she says. "I think they would love it because they live more in the moment. They have a desire to experience as much as they can; there's a little more wanderlust. The opportunity to travel and experience different cultures across the U.S. is very appealing to them. And they're excellent nurses. They've grown up with technology. They're very adaptable and they're all very bright."
On Feb. 16, 2021, Assembly Bill 142 was introduced in the Nevada legislature. While this legislation was defeated, these nurse leaders in Nevada are hopeful that compact licensure will eventually prevail. "I see it as having much more synergy among nurses," explains Adams. "We're already a well-loved group of professions. Why not have us unite more?"
For more information about the Nurse Licensure Compact, contact
nursecompact@ncsbn.org or visit
www.nlc.gov.