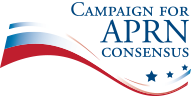 NCSBN has developed numerous resources to help boards of nursing and legislators adopt requirements outlined in the Consensus Model for APRN Regulation. By adopting the model requirements your state can ensure uniformity in licensure, accreditation, certification, and education to facilitate the regulation of safe and competent advanced practice registered nurses (APRNs) in every state.
About APRNs and the APRN Consensus Model
Citizen Advocacy Center Scope
Documents are posted with permission of CAC.
Implementation Resources for Regulators & Legislators
Application of APRN Certification Criteria
Related Articles
APRN Consensus Model Background
Show Your Support
Contact Us
Contact us with any comments or questions concerning implementing the model or to request hard copies of APRN toolkit documents.
Email

aprnconsensus@ncsbn.org