COVID-19
Suit Up
Posted 03/13/2021
Now that the U.S. has moved into the vaccine phase of the COVID-19 pandemic, there is an unprecedented and urgent need for qualified personnel across the country to safely administer the COVID-19 vaccines. Many medical professionals have stepped up to volunteer their skills and expertise.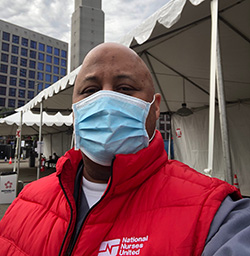 "It's a sigh of relief for them."
That's how Michael D. Jackson, MSN, RN, CEN, describes the way patients and members of his own family have responded to receiving the COVID-19 vaccine. Jackson is a seasoned clinical nurse in the Department of Emergency Medicine at the University of California, San Diego (UCSD) Medical Center and immediate past president of the
California Board of Registered Nursing. He and his wife Arlene, an intensive care unit nurse, have volunteered as vaccinators through a partnership between UCSD Medical Center and San Diego County.
"We're doing it at our baseball stadium, Petco Park, here in San Diego. So far, as of last month, we had already vaccinated 100,000 people," says Jackson. "I'm going to tell you, going there is a good break from an emergency department or a critical care situation. It's a feel-good feeling, doing your part, being a part of history and turning this virus around."
Jackson is no stranger to service. Over the years, he has volunteered professionally and in his community. He also served his country in Desert Shield and Desert Storm as an active duty U.S. Marine. "The call was put out to employees to come in and assist with the vaccination effort because we had already been vaccinated," he explains. "I live in a city that borders another country, and we have a huge immigrant population. Some people are suspicious of getting the vaccine. I think it's important for me to be out there so people can see that I've had this shot, I've studied the science, and it's going to be safe for our community."
Jackson feels that it is also important he and his wife are volunteering as a team. "Arlene is Filipino, and Filipino American nurses have been
hit extremely hard by COVID-19, experiencing the most deaths. So here we are; we're both critical care nurses, long term in our academic institutions. I think people see us and say 'hey, they're getting it. I'm going to get it too.'"
Jackson has recommended volunteering as a vaccinator to his coworkers. "It's an opportunity to do something that leaves you feeling better, an opportunity to give back to the community and do what you went to school for. You want to take care of the public during a crisis. I took a group of students with me to the vaccination center and we vaccinated all day. They were so happy to be there because they feel like they're included in the pandemic fight. I'm very thankful to UCSD Medical Center for allowing students to continue with their clinicals because a lot of organizations shut the students out. This was a perfect way for students to gain hands-on experience."
Asked if he has advice for his colleagues in nursing leadership, Jackson gets right to the point. "It's time to suit up. If you're serving in a leadership role and you don't have access to touching the patients anymore, now is the time. Brush up on your skills and get back out there. Devote some time to be out there with the community because they need you. They need you. They trust us."