APRN Campaign for Consensus: Moving Toward Uniformity in State Laws
The Campaign for Consensus is the NCSBN initiative to assist states in aligning their APRN regulation with the major elements of The Consensus Model for APRN Regulation. Those major elements [in each of the four roles (CNS, CNP, CRNA, CNM)] are:
State recognition of each of the four described roles
Title of APRN in one of the four described roles
Licensure as an RN and as an APRN in one of the four described roles
Graduate or post graduate education from an accredited program
Certification at advanced level from an accredited program that is maintained
Independent practice
Independent prescribing
Consensus Model Implementation Status
This map is an overview of each state's consensus model implementation status.
We are excited that several states have proposed legislation or rules change that, if enacted, will move them closer to compliance on major elements of Consensus. The maps project at NCSBN launched in Oct. 2011 following a team review of practice acts and rules. Selected elements from the Consensus Model for APRN Regulation were targeted for comparison state to state. We welcome your feedback and your input as we move ever closer to Consensus.
Campaign Background
Since the publication of the Consensus Model in 2008, each of the organizations representing Licensure, Accreditation, Certification, and Education of APRNs has worked diligently to make the change in their area that are required to align with the Consensus Model with an intended implementation target of 2015.
Adopt the APRN Consensus Model Requirements
If all states adopt the regulatory requirements for licensure, accreditation, certification and education for APRNs, as outlined in the Consensus Model, the benefits will be far-reaching for health care professionals, regulators and consumers.
The Benefits of Adopting the APRN Consensus Model Requirements
For Consumers
Clearly understand the role of APRNs, know that there is a competent individual managing your care and that the practice of APRN is regulated consistently for public protection.
For Employers and Other Health Care Workers
Clearly understand the preparation, training and scope of practice of APRNs you are working with.
For Current APRNs
Have confidence in knowing that you will meet licensure requirements to practice and that your role and scope of practice will not change if you need to relocate.
For Future APRNs
Have confidence that your education program is accredited and that you are receiving the appropriate education and training for preparation and entry into advanced practice nursing.
For Boards of Nursing
Fulfill your public protection role and have confidence that licensed APRNs entering your state are competent, having met uniform requirements for licensure from other states.
For Legislators
Be accountable to your constituents that an APRN regulatory model is being employed in recognition of public protection.
I Support APRN Consensus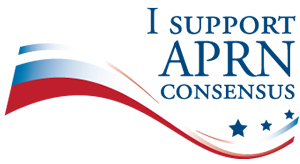 Use the "I Support APRN Consensus" logo on your websites or social networking posts and link back to: https://www.ncsbn.org/nursing-regulation/practice/aprn.page
Letters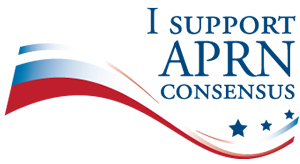 Use Sample Form Letters