Practice/Academic Partnership
The COVID-19 pandemic has caused hospitals and other health care facilities to close their doors to student nurses. Some Nursing Regulatory Bodies (NRBs) are concerned students will have limited or no clinical experiences before graduating, resulting in delayed graduation or even under-prepared nurses. In an effort to solve this issue, nurse leaders met virtually in March 2020. They developed a Practice/Academic Partnership that has since been endorsed by 10 major nursing organizations.
Policy Brief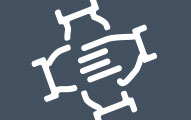 NCSBN, along with other leading Nursing Organizations, published a policy brief supporting Practice/Academic Partnerships to help the nursing workforce during the COVID-19 pandemic. The brief provides a model for NRBs and educators to ensure nursing students receive the clinical education needed to develop a successful nursing workforce.
Testimonial Video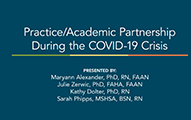 States that have implemented the Practice/Academic Partnership model say it has helped student nurses to learn first-hand lessons about emergency management, while providing much needed support to healthcare workers on the front lines. This video explains the model and shares the successes two states have had implementing it.
American Journal of Nursing (AJN) Webinar

In this webinar, you will learn how nursing schools and practice settings can work together to ensure graduate nurses are prepared for practice. Real-life implementation strategies and lessons learned are discussed by those who are using the model.
Free COVID-19 Courses Through ICRS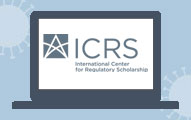 The International Center for Regulatory Scholarship (ICRS) COVID-19 series offers short online courses for nurses and nursing students looking for nursing-specific information about the coronavirus pandemic.
NCSBN Publications
Leader To Leader Fall 2020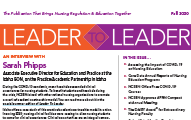 An Interview with Sarah Phipps, Associate Executive Director for Education and Practice at the Idaho Board of Nursing, on the Practice/Academic Partnership in Idaho
Leader To Leader - Special Issue - Summer 2020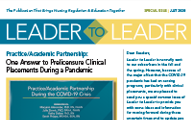 Practice/Academic Partnership: One Answer to Prelicensure Clinical Placements During a Pandemic