Substance Use Disorder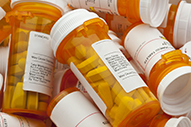 NCSBN's Substance Use Disorder (SUD) Initiative responds to the complex disease of SUD and the nationwide opioid epidemic. The NCSBN initiative provides two NCSBN Substance Use Disorder continuing education courses at no cost. Other free educational materials are available as well. In addition, NCSBN provides information regarding other resources for providers who prescribe opioids.
The Issue
Substance Use Disorder encompasses a pattern of behaviors that range from misuse to dependency or addiction, whether it is alcohol, legal drugs or illegal drugs. Opioid use has reached epidemic proportions in the United States. Currently, more people die from fatal drug overdoses than motor vehicles.
Who is Affected?
Substance Use Disorder can affect anyone regardless of age, occupation, economic circumstances, ethnic background or gender. It is a progressive and chronic disease, but also one that can be successfully treated. However, published best medical practices cannot alone combat the Substance Use Disorder or the opioid public health epidemic. Only a multifaceted approach, including prescribers, regulatory authorities, pharmaceutical companies, employers, legislators, law enforcement, and the federal government has a chance at turning the tide of Substance Use Disorder and the opioid-related morbidity and mortality.
Current Approach, Call for Action and NCSBN Response
The current multifaceted approach to opioid misuse includes initiatives by the U.S. Surgeon General, U.S. Department of Health and Human Services, Centers for Disease Control, the White House, various health care groups, and individual states. The American Public Health Association (APHA) called for action to reduce opioid abuse via the implementation of evidence-based provider training programs. NCSBN responded to the APHA call to action through an initiative to educate nurses and the public about substance use by removing the cost to NCSBN's two Substance Use Disorder Continuing Education courses. As well, all Substance Use Disorder resources (brochures, posters, and resource manual) can be ordered at no cost. NCSBN also provides an Opioid Prescribing Education Toolkit regarding other education resources available to practitioners regarding opioid prescribing